The Saariselkä resort is the most northern resort in Finland. It is great destination for outdoor winter activities, cross country skiing and downhill skiing, and the chasing for the Northern Lights. The village center of Saariselkä offers great service with restaurants, shops, hiking tracks, few activity providers with plenty of tours to offer. There is even a Tropical water park and spa in Holiday Club Saariselkä hotel.
* Search on the map. Select a location on the map by double-clicking or double-tapping.
1

.

Näverniemi Holiday Center
This Finnish Lapland holiday village is situated right by the Ivalo River. It offers en-suite accommodation options with private kitchen facilities and free high-speed WiFi. Ivalo town centre is 1.5 km away. Näverniemi Holiday Center's guest rooms feature a seating area and a flat-screen TV. The cottage has a private sauna and a river-view terrace. The hostess serves home-made Lappish specialities based on locally sourced ingredients. Other facilities include a playground and a bookable lakeside sauna. Bikes can be borrowed for free on site, and snowmobiles are available for rent. The Holiday Center has a private beach, and hiking and cross-country ski trails are found nearby. Saariselkä Ski centre and Spa is 30 km away.
2

.

Apartments Kuukkeli Hirvas
Apartments Kuukkeli Hirvas is located in Saariselkä and offers accommodation in both apartments and guest rooms. Free WiFi access is available. Saariselkä Ski Resort is 1.8 km away. Kuukkeli Hirvas' apartments feature wooden floors and a well-equipped kitchen with dining area. The private bathrooms have a shower and hairdryer. Some apartments also include a sauna, terrace and fireplace. The guest rooms have shared bathroom facilities and access to a shared sauna. Other facilities offered at the property include luggage storage, ski storage and shops (on site). An array of activities can be enjoyed in the surroundings, including skiing and hiking. The property offers free parking. Ivalo Airport is 21 km away.
3

.

Wilderness Hotel & Igloos Muotka

Wilderness Hotel Muotka is the place for active nature holidays in Northern Finland. Hotel is surrounded with wilderness areas. It offers many kinds of outdoor activities and authentic accommodation to feel and enjoy the nature
Wilderness Hotel Muotka provides variety of accommodation: wilderness rooms and suites with sauna, log cabins, Aurora cabins with glass roof.

Hotel is located next to Urho Kekkonen National Park with skiing and hiking tracks, close to popular Kakslauttanen area. This place is suitable to try the luck to see the Northern Lights.

Activities available on-site: reindeer farm visit, snowmobile safari, ice-fishing, snowshoeing, husky safari, Aurora guided tours and camps.
Ivalo airport- 30 km.
150€ / person
115€ / person
190€ /3 hours
4

.

Kakslauttanen Arctic Resort - Igloos and Chalets

Kakslauttanen Arctic Resort is a family holiday resort in Finnish Lapland. It offers accommodation in glass igloos, snow igloos, traditional log chalets. Kakslauttanen also a place for all kind of Lapland outdoor and nature activities, the Northern Lights hunting and Santa Claus experience.
Kakslauttanen Arctic Resort is located 250km north of the Arctic Circle, 30 km from Ivalo airport. Due to its location in Lapland wilderness this place is ideal for the Northern Lights holidays.

Activities available: smoke sauna and ice swimming, meeting Santa Claus, husky safari, visiting reindeer farm, snowmobile rides, snow tank safari, skiing, downhill skiing.

Glass igloo accommodation includes thermal glass igloos with private toilet, shower and sauna facilities are shared. Kelo-glass igloos for up to 6 persons with private sauna and bathroom, fireplace, cooking facilities, bed-room with glass dome.
Full Day Excursion with Sampo Ice Breaker
Visit Santa Home
Husky safari - € 152 / person
Ivalo airport - 31 km.
5

.

Star Arctic Hotel

Star Arctic Hotel in Saariselkä, Finland is a small boutique style hotel located top hill. Hotel offers wide panorama view for Saariselkä village, Lapland scenery and wilderness. Place is ideal for winter sports and activities.
Each room has a large glass window and Aurora Cabin has glass roof. On a clear night, it is possible to see the Northern Lights from the window. Ski-in and out is possible from the hotel. Husky, reindeer, snowmobile safaris, Aurora hunting trip can be booked at the hotel.

Star Arctic Hotel offers accommodation in Scenic view suites for 2-4 persons. Some rooms has private sauna and little kitchen. Also there are Aurora Cabins with glass roof for up to 4 persons.
6

.

Kuukkeli AuroraCabins
Boasting ski-to-door access, barbecue facilities, and a garden, Kuukkeli AuroraCabins provides accommodation in Saariselka with free WiFi and lake views. The property has garden views and is 29 km from Ivalo. The chalet includes 2 bedrooms and a living room with a flat-screen TV. The chalet also offers a fully equipped kitchen with a dishwasher, and a bathroom with a shower. The chalet offers a sauna. Kuukkeli AuroraCabins has a terrace, along with a ski storage space. The nearest airport is Ivalo Airport, 23 km from the property.
7

.

Saariselän Marjamajat
These apartments are in central Saariselkä, 500 metres from the ski slopes and 25 minutes' drive from Ivalo. All apartments have a fully equipped kitchen, a flat-screen TV and a sauna. A seating area with sofa and a bathroom with shower are standard in Saariselän Marjamajat's apartments. Kitchen facilities include a dishwasher, microwave and dining area. Some have a fireplace for warmth and cosiness. Hammastunturin Erämaa National Park is 25 minutes' drive away. Shops, restaurants and services are within a few minutes' walk of Marjamajat Saariselkä. On-site parking is free, and engine heaters are available.
8

.

Lapin Kutsu Log Cabins
Set in Saariselka in the Lapland region, Lapin Kutsu Log Cabins offers accommodation with free WiFi. The accommodation features a sauna. All units are equipped with a flat-screen TV and a fully equipped kitchen with a a dishwasher, an oven and coffee machine. A microwave and kettle are also provided. Ivalo is 27 km from the chalet. The nearest airport is Ivalo Airport, 20 km from Lapin Kutsu Log Cabins.
9

.

Kuukkeli Porakka Rooms
Kuukkeli Porakka Rooms offer accommodation in traditional snag-timber log houses surrounded by the nature of Lapland. Situated a few hundred metres from the gate into Urho-Kekkonen National Park, this property is a 10-minute walk from the centre of Saariselkä. Kuukkeli Porakka Rooms is comprised of 4 buildings; the main building, the accommodation building, a sauna building and heated storage with a garage. The main building and accommodation building are joined by an outside corridor and there is a children's play ground between all the buildings. Restaurant and Café Kuukkeli offers a variety of traditional meals using reindeer and salmon, as well as pizzas, casseroles and baked goods. Breakfast can be ordered at an additional cost.
10

.

Riverhouse Lumo
Riverhouse Lumo is situated in Ivalo and offers ski-to-door access and a private beach area. Guests staying at this holiday home have access to free WiFi, a fully equipped kitchen, and a terrace. The property includes a living room with a flat-screen TV. The holiday home also provides guests with a bathroom with a bidet and a washing machine. The holiday home offers a sauna. Riverhouse Lumo has a barbecue, along with a water sports facilities. Saariselka is 25 km from the accommodation, while Inari is 35 km from the property. Ivalo Airport is 6 km away.
What to do around?
1. Saariselkä Cross Country Ski
October - May is the cross-country skiing season in Saariselkä.
About 200 km of cross-country ski tracks, 34 km with illumination.

Ski trails along the breathtaking nature and scenery of Finnish Lapland. There are huts and shelters along the ski trails. Fell free to use it and relax, cook sausages and drink tea.
All tracks are accessible from the hotels and cottages of Saariselkä.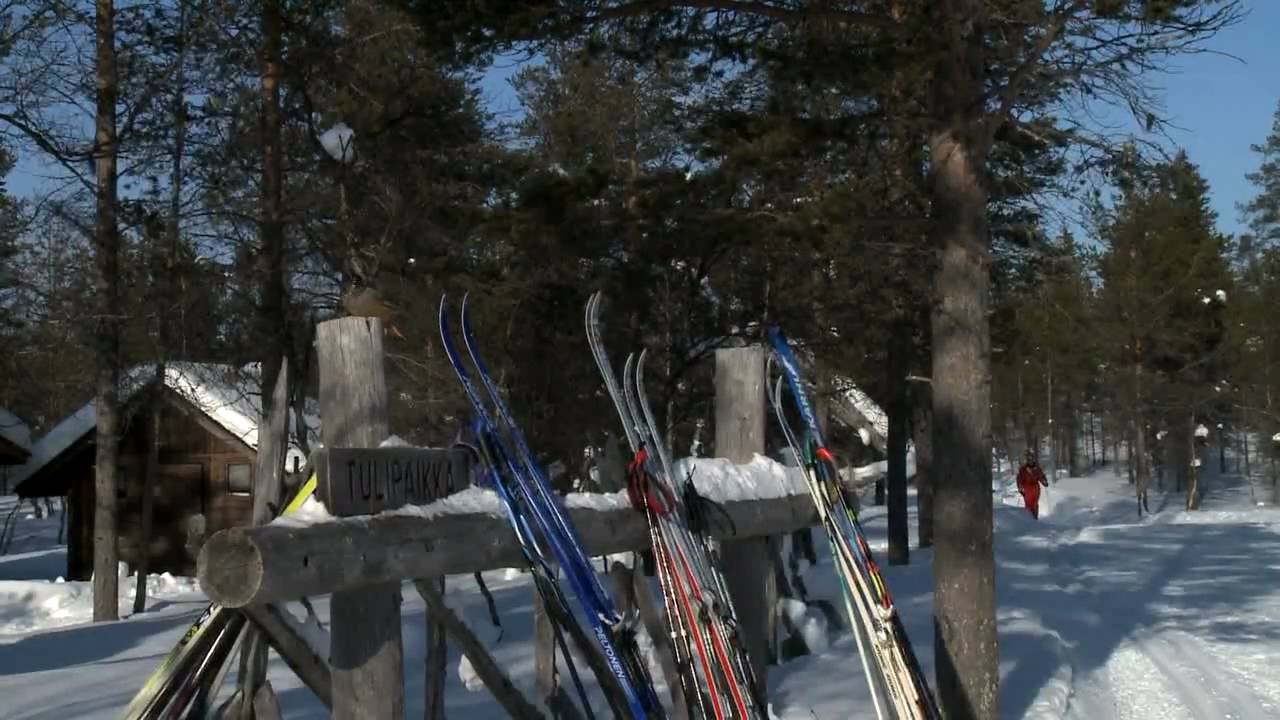 2. Saariselkä Downhill Ski
End of November - May is the downhill skiing season in Saariselkä.
15 slopes, 7 of which are illuminated. Longest slope is 2km. Elevation 180 m.

Saariselkä downhill skiing center is located on 2 fells: Kaunispää and Iisakkipää slopes are suitable for all skill levels. A bit small resort for serious skiers or snowboarders. But great location to learn ski and have a winter fun outdoors skiing.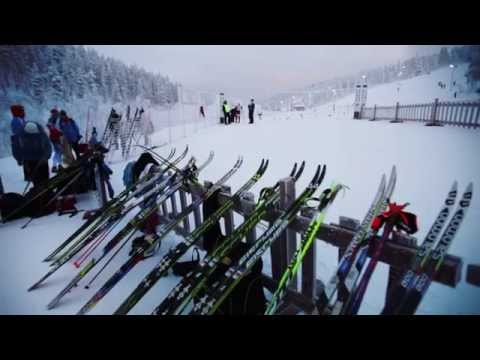 SAARISELKA EVENTS
Aurora hunting by minibus 3 h / daily
Take a warm and comfortable trip after Northern Lights by minibus. The guide knows where to drive and if there is luck, we will enjoy the unbelievable heaven show over the sky.

• daily
• departure: 8:30 PM
• duration: approx. 3 h
• minimum: 4 adults

Price
• 75 € / person
• 37,50 € child 4-12 yrs.

Price includes
• transport by minibus
• guiding in Finnish and English
• traffic insurance
• ATT. pick up from the clients cabin/apartment/hotel is not included in the price - client should come 15 min before the start of the program to the Luontoloma Pro Safaris safari office in address: Lutontie 3 (back yard of Santa´s Hotel Tunturi main building)
Date:
From 1 October 2019 every day
Address:
back yard of Santa´s Hotel Tunturi main building
,
Finnish smoke sauna evening / tuesday, wednesday, friday
Description
The sauna world of Kiilopää is named Kuurakaltio. Kuurakaltio has two electrically heated saunas (separate saunas for men and women), dressing rooms and showers (separate for women and men), a smoke sauna (shared by men and women) and a swimming spot. During the wintertime the temperature of the water is approximately –1 ºC. Our excursion pampers you with the gentle warmth of the traditional Finnish smoke sauna. Between sauna sessions it is worth taking a dip in the fresh water of the arctic brook. Kiilopää is 16 km to south from Saariselkä center. More about area of Kiilopää.

More information
• Tuesdays, Wednesdays and Fridays
• smoke sauna 3-8 p.m.
• no minimum number of participants

Price
• 13 € / adult
• child under 12 yrs. free of charge (child always with adult)
• 30 € / family ticket (2 adults + 2 children max 12 yrs.)

Price includes
• bathing in a smoke sauna
• possibility to swim

Price excludes
• transfers
• swimsuit
• towel

For hire
• swimsuit 5 € / person
• towel 5 € / person

Kingcrab safari in Kirkenes, a day journey, Tuesday
This exciting excursion will be heading to North Norway, Kirkenes. The trip is done by modern and comfortable coach and the guide will tell you about Lapland, Lake Inari, Sami culture, reindeer herding etc.

Breakfast will be served in Sevettijärvi village in a farm by the way to Kirkenes. Thermal gear will be changed in Kirkenes Snow hotel. A totally unforgettable experience awaits you on the frozen fjords of Kirkenes! After changing thermal gear (overalls, socks, boots and balaclava headwear), approx. 35 min sleigh ride pulled by snowmobile will start.

This is your chance to catch, learn how to cook and most importantly EAT this mysterious creature. The Arctic King crab is one of the most popular starter dish in top restaurants and now you have opportunity to taste it as its freshest, pulled from the fjord in front of your eyes. You can even help in sawing the hole in the ice and bring up the catch. Checking the crayfish traps will take approx. 40 min. Snowmobile sleigh ride will take us to a beautiful farmhouse by the lake and our master guide will prepare the caught crab for you to taste.

After lunch and short free time to see the area we ahead to Saariselkä. We will stop in Sevettijärvi village for meal by the return way. And if the weather is good in the evening, we can make a stop of few minutes for watching Aurora Borealis on the route Kirkenes - Saariselkä - Kakslauttanen.

• Tuesdays in November - December, 2019 - January - March 2020
• departure: at 5.30 AM from Saariselkä
• whole day trip 13,5 h
• arrival in Saariselkä: at 7 PM
• minimum: 1 person
Attention: you may start the safari in Saariselkä or Kakslauttanen

Price
• 290 € / person
• 145 € / child under 10 yrs

Pick-up place and -time
• bus stop of Lapland Hotel Riekonlinna, Santa´s Hotel Tunturi and Holiday Club Saariselkä • pick-up time: at 5:30 AM • Kakslauttanen / East Village, outside of the reception maindoor
• pick-up time: at 5:15 AM

Price includes
• return bus transport
• guiding in Finnish / English / German
• breakfast in in Sevettijärvi at 8.15 AM
• thermal gear: overalls, socks, boots, gloves, balaclava headwear, helmet
• at 9.30 - 13.30 King crab safari (at 10.30 Norwegian time) - 3 h
• light King crab lunch during safari
• at 4 PM meal in Sevettijärvi (sautéed reindeer soup, bread, butter, dessert and coffee)

Address:
Lapland Hotel Riekonlinna, Santa´s Hotel Tunturi and Holiday Club Saariselkä
,
Camera Borealis
Spend a weekend with nature photographs and movies. Camera Borealis -nature photograph event has been in Inari village every year since 1996.

Contact: Nature Centre Siida, Kirsi Ukkonen
kirsi.ukkonen@metsa.fi
+358 400 479 986

siida@metsa.fi
+358 (0)206 39 7740

Address:
Nature Centre Siida
,
Husky safari 1 h / mon, tue, wed, thu, fri, sa
Before the safari our guide gives you the driving and safety instructions.

You drive two per sledges, other on is the passanger and sits in the sledge, other one is the driver stands on the runers at the back of the sled. In half way you can swop the positions. Our guide is driving a dogteam in front and the guests will follow with their own teams (2/ sledge).

Our trails runs in the forest and on the hills. Driving a dog sledge requiers balance and some condition. In this safari everybody gets to drive by themselves.

After safari you have some time to take pictures with dogs and with puppies, if we have some at the moment.

• every day, except Sundays
• total duration: 2 h
• minimum: 2 adults
• pick-up time: at 1 PM (safari starts at 1:30 PM)
• pick-up place: Holiday Club Saariselkä - main door / entrance hall
Attention: ask also other available starts!

Price
• 75 € / adult (2 people/sled)
• 150 € / adult (1 person/sled)
• 53 € / child 4-11 yrs.
Attention: this discount entitles child to a place in a sledge with adult

Price includes
• return transfer from Saariselkä (approx. 20 min / direction)
• driving and safety instruction lesson
• guidance in English, Germany, French, Finnish, Swedish
• a warm juice inside after safari
• sled driving approx. 5 km (approx. half an hour)
• husky info
• snuggle time with huskies and pups if we have some at the moment

Price excludes:
• thermal gear - you will need warm overall, boots, hat and gloves
• pick-up from Kakslauttanen - Kiilopää (please be in time at pick-up point
Attention: travel insurance is recommended - self liability 900 € / accident

Good to know
• driving huskie sleigh requiers good balance and average physical condition
• the trail is located in hilly area, so the drives should be able to help the dogs in uphills

Address:
Kakslauttanen - Kiilopää
,
Aurora Hunt by open fire / Monday
This tour takes us to north of Saariselkä, leaving the street lights behind us. Our minibus stops on top of the Kaunispää fell, a popular place for aurora hunting. We will continue to our remoted aurora camp where we make a fire in the tepee, make some hot berry juice and enjoy in the glow of fire a late night snack while we wait the northern lights to appear above the horizon.

• Mondays
• departure: at 8:00 PM
• duration: 3 hours
• minimum: 4 adults
Price:
• 120 € / person
• 60 € / child 5-12 years
• child 0-4 years free of charge
Price includes:
• thermal clothing
• guiding in English
• aurora hunting
• warm cottage with hot drinks
• sausages and marshmallows by open fire

Attention: pick up from the clients cabin/apartment/hotel is not included in the price - client should come15 min before the start of the program to the Top Safaris safari office in address: Saariseläntie 7 (same building as Hotel Holiday Club Saariselkä)
Address:
Hotel Holiday Club Saariselkä
,
Aurora ice fishing 3 h / Monday, Friday
We get dressed with warm overalls and shoes. Everyone is also wearing a helmet. The snowmobile guide will give all the safety instructions before we start. After a short snowmobile driving we get out of the village lights and we continue to a lake where we start ice fishing. Total driving distance is approx. 30 km's (15 km's / direction). We try our luck in ice fishing under the millions of stars and maybe amazing Auroras dancing above us.

• Mondays, Friday
• departure: at 8 PM
• duration: approx. 3 h
• minimum: 2 adults
Price:
• 120 € / person, when 2 people share one snowmobile
• 165 € / single driving
• 90 € / adult sittin in a sleigh
• 60 € / child 4 - 12 yrs / sitting in a sleigh
Price includes:

• services of professional guides
• warm clothing (overall, shoes, cloves, balaclava and helmet)
• ice fishing equipment
• hot drink
• snowmobile with insurance - own liability 1000 € in case of accident or damage
• petrol and oil of the snowmobile
• safari will take place depending on weather conditions
• ATT. pick up from the clients cabin/apartment/hotel is not included in the price - client should come to the safari office. Luontolomat Pro Safaris in address Lutontie 3

Address:
Luontolomat Pro Safaris
,
Chasing Northern Lights on snowshoes / Monday
Description: On Saariselkä Training snowshoe tours You will get the chance to explore the untouched snow banks of Urho Kekkonen National Park. We'll hike outside the maintained trails which means that we will very unlikely meet other people. We start the tour after sun set and head towards the top of fell Iisakkipää. If we are lucky we will see the northern lights dancing on the sky. Even if we aren't that lucky, walking in dark forest is a unique experience.

• Mondays (December - February)
• starting time: 8PM from starting place of the xc-skiing tracks (Lutontie 3)
• duration: 2 hours
• max 10 participants
• participants should have suitable outdoor clothes

Price:
• 70€/person
Price includes
• services from local guide
• snowshoes
• warm berry drink and small snacks during a break
Address:
Luontolomat Pro Safaris
,
Northern Light safari by snowmobile / tuesday, thursday
Would you like to experience the exotic light show on the sky, Aurora Borealis? Our Northern Light Tour takes you far away from the lights in the village on a sleigh ride to the fells. If the weather is fine, prognosis for weather and aurora are promising we'll meet at the safari club and head with our guide over the fells. We can't guarantee that you'll see aurora but also only the sleigh ride behind the snowmobile under the bright stars of Lappish sky is an unforgettable experience. And we don't start if the forecast is not good enough.

• Tuesdays and Thursdays
• departure: at 8 PM
• duration: 2-2,5 hours
• minimum: 2 adults

Price: • 125 € / person (2 people/snowmobile)
• 160 € / person (1 person/snowmobile) (you should choose this one if you don´t have a pair for sharing the snowmobile)
• 80 € / person (sitting in the sleigh)
• 62,50 € / child 10-12 yrs. (sitting in the sleigh)

Attention: evening safari is not recommended for children (child should be at least 10 years old) and if accompanied, there must be an adult sitting in sleigh, too
Price includes:
• driving by snowmobile
• gasoline
• thermal clothing as described
• guidance in English and Finnish
• hot drink
• third party motor insurance: The driver of the snowmobile has to be at least 16 years of age with a valid driving licence (own liability max 900 € in accident)

Attention: pick up from the clients cabin/apartment/hotel is not included in the price - client should come 20 min before the start of the program to the Top Safaris safari office in address: Saariseläntie 7 (same building as Hotel Holiday Club Saariselkä)
Address:
Hotel Holiday Club Saariselkä
,